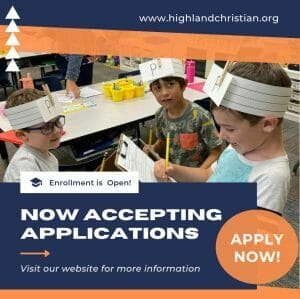 Admissions Portal is Open
Highland Christian School is now accepting applications for the 2024-2025 school year! Our Kindergarten Readiness Day is scheduled for March 6. If you have an incoming Kindergarten student, you can register here for their screening appointment.
Please note: Third and Fourth grade currently have a wait list. If you would like to be considered for these grade levels please complete a request to be added to our wait list here.
Tuesday November 28, 2023

Cheesy bread sticks, marinara, salad, fruit

Wednesday November 29, 2023

Chicken tenders, seasoned rice, peas & carrots, fruit

Thursday November 30, 2023

Pizza, veggies & ranch, fruit

Friday December 01, 2023

Pepperoni pizza rolls, salad, fruit, vanilla ice cream cup